How to open epub files on Windows 10?
In the era of information explosion, whether you are reading for school, work, or entertainment, understanding information through reading has become an indispensable part of everyone's life. In recent years, our way of reading has changed a lot. With the popularity of electronic devices and the characteristics of e-book digitization, e-books can be downloaded to personal devices immediately, which reduces the time difference. E-Books provide increased comfort and convenience for anyone that wants to take their reading material with them wherever they go. For these reasons and more, e-books are accepted and loved by more and more people.
Common file formats mainly include pdf, doc, epub. As shown in the table below, different formats also show different characteristics in reading.
PDF
The PDF file is very accurate, and the adaptability to the screen size is very poor. Moreover, the text content of PDF is also divided into blocks, which leads to the general effect of reflow technology on a small screen.
Doc
Doc format can be edited, rarely used as an e-book format, more for e-book production source format.
Epub
EPub is an open format, which mainly focuses on content and can adapt to different screen sizes. Now it has gradually become the mainstream format.
Through the comparison, we can realize that epub file format can bring a better reading experience than PDF and DOC files. Since epub file format was designed to be an XML format that can backflow digital content, epub has become popular in major hosting organizations. Epub file format has varieties of uses, including digital newspapers, Industry Association Journals, and user manuals, therefore it has become one of the most popular e-book formats. Epub file format not only supports insertion, embedded fonts, different fonts and other complex typesetting functions, but also can plug in audio and video. Not to mention that it can adapt to the size of the screen.PDF generally can't adapt to the screen. Therefore, reading the 8-inch PDF with a 6-inch device is always a little difficult. But this doesn't happen to ePub format files, you can read smoothly no matter you are a 4-inch or 10-inch device.
You must want to know how to open the ePub file when you understand the advantages of the ePub files. A good horse should be equipped with a good saddle. ePub files with an appropriate reader to play the advantages of this format. Only when the epub file is used in the appropriate reader, its advantages can be fully shown.
Neat Reader is the preferred software to open epub files. Neat Reader, as a full platform epub reader, not only supports the whole platform but also supports multiple terminals, cloud storage, and download. It can be said that Neat Reader is an excellent work. This article will introduce how to use Neat Reader to open epub files on windows 10.
First, entering the official website to download Neat Reader.(https://www.neat-reader.com/)It's worth mentioning that the software is also an online epub viewer. It also supports reading e-books directly on the web. Of course, downloading software is a better choice.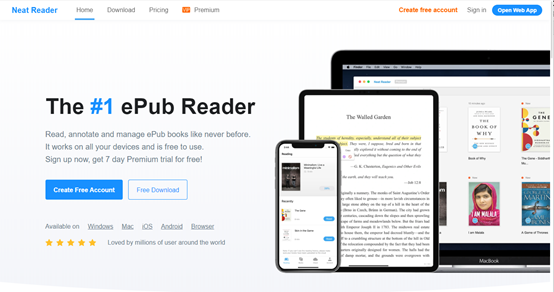 The second step is to open the downloaded software, click the button on the top of the sofware to create a new account or log in to an existing account. Before you log in to your account, remember to set up the server and language in the settings at the bottom, which will make your reading journey more pleasant and smooth.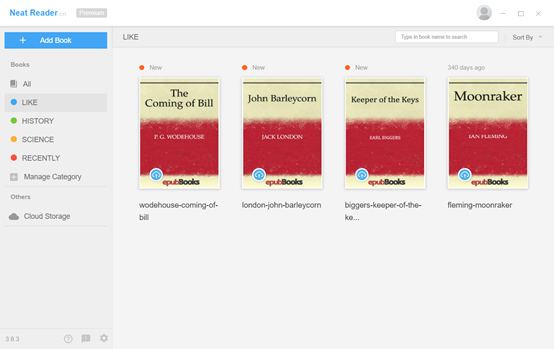 Congratulations, you have finished all the preparatory work. Click the adding book button on the top left, you can browse the epub files anywhere on the computer.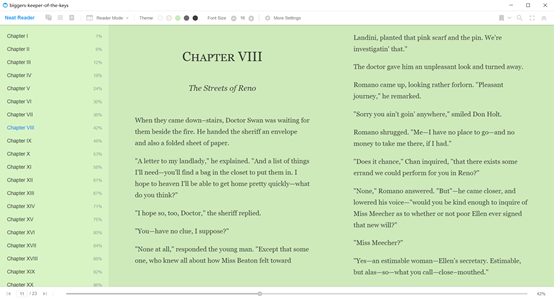 After adding files, you can start your reading journey. As the best epub reader, Neat Reader can meet your needs whether you want to mark, take notes, tag, retrieve content, etc. Moreover, Neat Reader supports multi-platform reading, so you can check your own reading records when you log in to different devices so that you will never get lost in reading.